Feeling snubbed by Prince William and Kate, Michelle? IHateTheMedia.com has the solution.
The First Lady is obviously a bit miffed that the President and she were not invited to Prince William and Kate Middleton's wedding. And the simple fact is that IHateTheMedia.com couldn't just sit by and watch her heartbreak. So we took action.
The Daily Telegraph UK has the details:
BLANK invitations to the marriage of Prince William and Kate Middleton available on the black market have sparked security concerns ahead of the April 29 ceremony.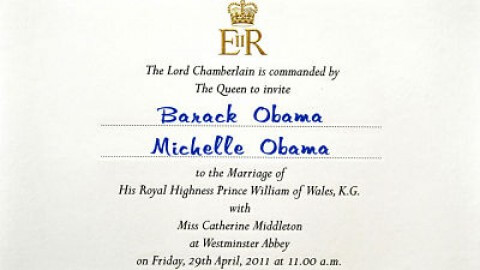 A man claiming to work for the printing firm which produced the genuine invitations offered a journalist a blank copy, demanding STG2000 ($3200) and adding that he could supply several more.

A reporter for the London newspaper, The Mail on Sunday, met the man last week and was shown an invitation almost identical to the genuine document which went on show for the media when the invitations were sent, more than a week ago. The only difference between the genuine and fake invitation is that the black market version is missing two dotted lines where the names of guests are written by hand.
We've taken the liberty of printing your names on a copy of the blank invitation, Michelle. All you need to do is print this page on a piece of nice, official looking piece of paper, cut out the invitation, and then head for London.
We're pretty sure it'll work, Michelle. Because you belong at that wedding, damn it. You belong.
Source: Daily Telegraph UK