The latest cable news ratings are out and Zip over at Weasel Zippers put together a chart that will put a smile on your face. In fact, when you see what's happening over at MSNBC, it might even make you laugh out loud.
Check out ratings for May 8, 2011: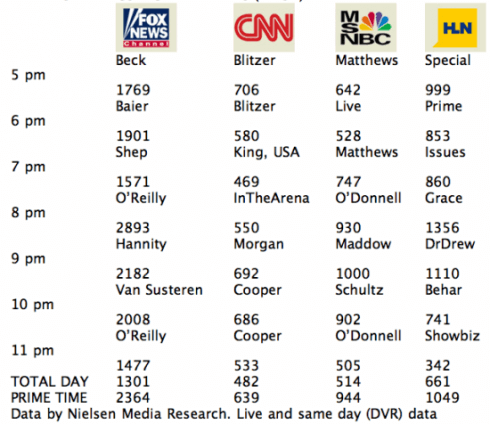 Of course, Fox News continues to kick ass in every time slot (they've been number one for somewhere considerably north of 100 straight weeks).
MSNBC makes a little news with these ratings. But not the kind of news they're likely to brag about.
Specifically, please note that Chris Matthews and Cenk Uygur both finish dead last in their time slots. They both lose out to both HLN and CNN in addition to Fox.
Rachel Maddow loses big time to Dr. Drew on HLN, but does manage to top the rapidly disintegrating Piers Morgan show on CNN.
Ed Schultz loses to Joy Behar on HLN. How bad to you have to be to attract fewer viewers than the incoherent and unfunny Joy Freakin' Behar?
Lawrence O'Donnell finishes behind Nancy Grace despite the fact that her show is virtually unwatchable.
As Zip said, "It's almost like there's no market for the leftist drivel they dish out on MSNBC."
To make matters even worse for MSNBC, Keith Olbermann's new program begins in a couple weeks on Current, which will surely drain away even more viewers.
We love it. Two gangs of socialists fighting over their pieces of a shrinking left wing cable news pie. Proof positive that neither of them understand free markets.
H/T: Weasel Zippers