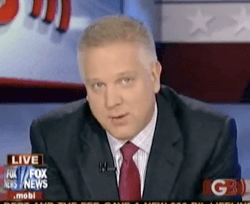 Glenn Beck kicked butt in the ratings last week. After being on television for years, he's an overnight success.
His Fox News program soared in the ratings, passing perennial second place Sean Hannity and nearly catching long-time leader Bill O'Reilly. All three Fox hosts left the other cable news shows far, far behind.
Here's a brief snippet of an interview Beck did recently with TheDailyBeast.com:
Beast: Do you expect that you will be surpassing Rush Limbaugh any time soon in terms of your radio audience?
Beck: [Laughs.] I don't think so.
Beast: But are you the pretender to the throne?
Beck: I think I do something extraordinarily different than Rush. Rush is political thought, I am a guy who's part rodeo clown. I don't pretend to be able to plan movements of the parties and the presidents and everything else. I really don't care that much about the parties. I'm a dad. I care about my children. I want some country to be left with real freedom in it for them.
This might be a good time for Bill O'Reilly to remember the words of the great Negro League pitcher Satchel Paige, "Don't look back, somebody might be gaining on you."
But at least he knows it's not Keith Olbermann.
Source: TheDailyBeast.com