Columbia Professor and wacko liberal Marc Lamont Hill may think Chris Christie is too fat to be president, but the voters seem to think otherwise.
Zogby.com reports the weighted results:
While there is no clear-cut leader among possible Republican contenders for President, a new Zogby Interactive poll conducted Nov. 3-5 shows Republican voters may be looking for a fresh face, as New Jersey Gov. Chris Christie leads a list of possible candidates with 19%.

Following Christie among Republican voters are former Massachusetts Gov. Mitt Romney with 17% and former Alaska Gov. Sarah Palin with 14%. The largest percentage of Republicans (27%) are not sure who they would support in 2012.

The table below shows preferences for Republican voters, all voters and independents.
No matter what Professor Hill thinks, the American people seem to think Chris Christie is a political heavyweight.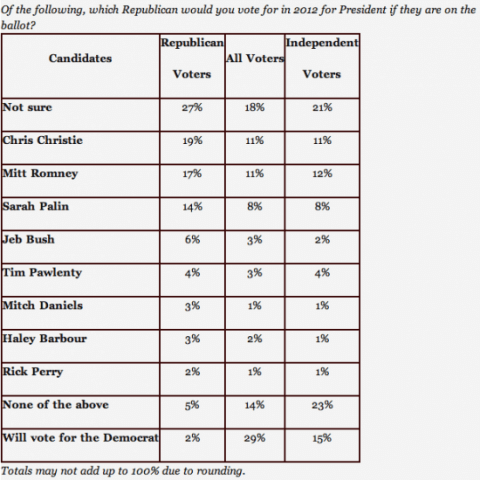 Source: Zogby.com