Michelle Obama went to lunch on Monday. In other words, she went to a fast food joint and ordered a double helping of hypocrisy with some sanctimony on the side.
Flaunting her role as Big Brother's Big Mother, she sat down at the trough and ate everything she tells the little people not to eat.
The Washington Post explores the excess caloric count:
First lady Michelle Obama ordered a whopper of a meal at the newly opened Washington diner Shake Shack during lunch on Monday.

A Washington Post journalist on the scene confirmed the first lady, who's made a cause out of child nutrition, ordered a ShackBurger, fries, chocolate shake and a Diet Coke while the street and sidewalk in front of the usually-packed Shake Shack were closed by security during her visit.

According to nutritional information on Shake Shack's Web site, the meal amounted to 1,700 calories.

Obama, who launched the "Let's Move" campaign to combat childhood obesity last year, has previously admitted to having an "obsession with french fries," which she says are fine to indulge in occasionally. "It's all about moderation," Obama told reporters.
Moderation. That's what it's called when you follow a 1700-calorie meal with a Diet Coke.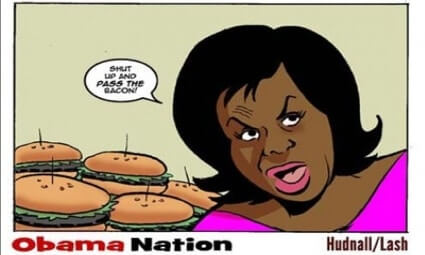 Source: Washington Post