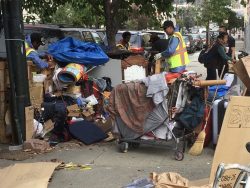 'Homelessness, dirt and trash, open drug use and robberies… it's disgusting': San Francisco tourism chief is forced to tell the truth about his town as he begs city bosses to clean it up. San Francisco spends an estimated $241 million per year on the homeless? Where's this money go? Down a shithole?
The president of SF Travel, Joe D'Alessandro, says he is greeted everyday by drug users openly shooting up o and their leftover paraphernalia, human excrement, homelessness, and more.

'The streets are filthy. There's trash everywhere. It's disgusting,' D'Alessandro told the San Francisco Chronicle.

'I've never seen any other city like this – the homelessness, dirty streets, drug use on the streets, smash-and-grabs.