"The science is settled" is the mantra repeated by global warming true believers to justify their faith in a fraudulent religion. Ad nauseam.
Uh-oh. In another blow to the Gospel According to Saint Al, it turns out that the vast majority of Americans are apostates.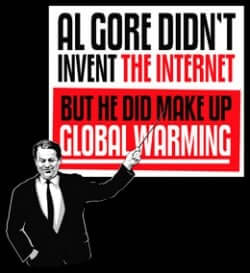 Rasmussen has the details:
The latest Rasmussen Reports national telephone survey of American Adults shows that 69% say it's at least somewhat likely that some scientists have falsified research data in order to support their own theories and beliefs, including 40% who say this is Very Likely. Twenty-four percent (24%) don't think it's likely some scientists have falsified global warming data, including just six percent (6%) say it's Not At All Likely. Another 10% are undecided.

The number of adults who say it's likely scientists have falsified data is up 10 points from December 2009 .

Fifty-seven percent (57%) believe there is significant disagreement within the scientific community on global warming, up five points from late 2009. One in four (25%) believes scientists agree on global warming. Another 18% aren't sure.
We just did our own survey. 50% of the IHTM staff thinks Al Gore concocted global warming to line his own pockets and 50% think he did it to advance one world government. The margin of error is 50% one way or the other.
Source: Rasmussen