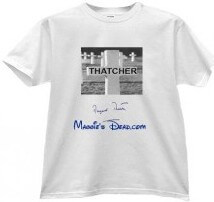 Imagine if there were a website called "ReagansDead.com." How outraged would you be?
That's how fans of former British Prime Minister Maggie Thatcher feel about a website called "MaggiesDead.com." The site is so sick that it actually brags that it's "celebrating the imminent death of Margaret."
The sick site features insulting videogames, toilet paper featuring Thatcher's face, degrading T-shirts, and other derogatory merchandise.
We find it somewhat reassuring to know that the left is just as vile and angry in Great Britain as it is in the United States.