We've all heard how the universally-despised debt ceiling deal did absolutely nothing but that may be incorrect. An unexpected benefit may emerge: the death of Obamacare.
It would be a delicious irony, as Hercule Poirot said in "Murder on the Orient Express", if "…a repulsive murderer has himself been repulsively, and, perhaps deservedly, murdered." In our case, the murderer is Obama's signature economy-killing achievement.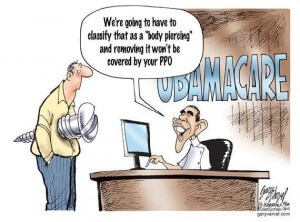 Politico relays the rumors:
The debt ceiling agreement could jeopardize millions of dollars, and perhaps billions, in initiatives from President Barack Obama's health care reform law if the super committee can't come up with required spending cuts.

Many of the pots of money in the law — one of the Democrats' most prized pieces of legislation — could get trimmed by the debt deal's sequestration, or triggered cuts.
ObamaCare is a "booby prize" being it was created by a bunch of boobs. It's authors remind us of the dopey kid who ran to his mom with a handful of crap yelling, "Ma, look what the dog just did!"
"There are at least 15 provisions of the Obama health care law that will find themselves subject to this trigger if the committee is not able to come up with other cuts," said Sen. John Barrasso (R-Wyo.).
Death by a thousand cuts? Great, make that piece of crap suffer.
The fact that the programs are vulnerable at all means Obama and congressional Democrats did not succeed in their attempts to shield the health reform law from the debt-deal trigger.
Just another thing the a-holes didn't read. That's a shame. A real shame.
– Written by Bonfire of the Absurdities
Source: Politico.com