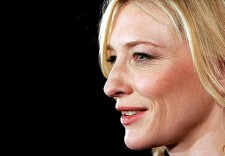 Don't bother pointing out that Cate Blanchett is Australian. She makes movies, which makes her a Hollywood-type in our minds.
Blanchett wrote an opinion piece in the Sydney Morning Herald that makes acting sound like something so dangerous that it should only be attempted by a stuntman (or in this case, perhaps, a stuntwoman).

"We change people's lives, at the risk of our own."
And Ms. Blanchett was just getting warmed up. The overheated hyperbole continued:
"We change countries, governments, history, gravity."
And if she were on television, we'd change the channel.
Source: Sydney Morning Herald via Andrew Bolt