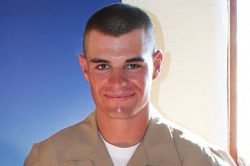 Ian David Long, California shooter, was Marine maybe suffering PTSD. This appears to us to be another law enforcement failure that cost 13 people their lives. He was not taken in for observation, had extended magazines for his Glock that are illegal in California. Not to mention we wonder if he indeed had PTSD, was he being treated for it? VA Hospital? Hello?
"We've had several contacts with Mr. Long over the years, minor events, a traffic collision," he said. "In April of this year, deputies were called to his house for a subject disturbing. They went to the house, they talked to him. He was somewhat irate. Acting a little irrationally."

Mental health professionals sent to evaluate him concluded he did not need to be taken into custody, he said.