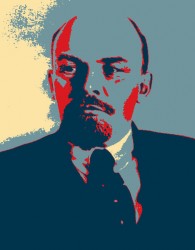 CNBC "Mad Money" host Jim Cramer sees some scary similarities between the words of President Obama and those of communist revolutionary Vladimir Lenin.
Obama dogged Wall Street by saying there would be a time "for them to make profits, and there will be time for them to get bonuses. Now's not that time. And that's a message that I intend to send directly to them."
Cramer made this comparison: "There was a little snippet last week that was, 'Now is not the time for profits.' Look – in Lenin's book, "What Is to Be Done," is simple text of what I always though was for the communists. It was remarkable to hear very similar language from 'What Is to Be Done?' which is we have no place for profits."
What's really frightening about this whole thing is that we find ourselves agreeing with Cramer.
But it's not something we're proud of.