Consider this story to be an object lesson in media bias. Bias against conservative tea parties and in favor of liberal coffee parties.
This is a typical photo of the handful of "coffee parties" that popped up in opposition to the success of the massive "tea parties" that were held from coast to coast. Nine people. Not what you'd call a big success.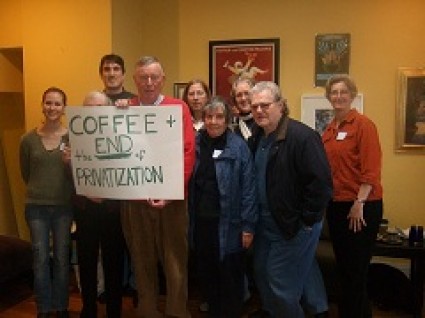 Yet here's how Newsweek reported the story:
When Annabel Park imagined what it would be like to head a new national political movement, here is what she had in mind: a coming together of engaged, intelligent citizens who had tired of the angry rhetoric and accusations of the Tea Partiers; Americans of all political persuasions joining in a spirit of equanimity to discuss the nation's problems, and maybe even share a laugh. It was this beautiful vision that danced in Park's head on a recent Saturday as she made her way to Busboys and Poets, a cafe in Washington, D.C., for one of nearly 500 Coffee Party meetings taking place nationwide that day.

…All of a sudden Park was a political leader—of what, she didn't quite know—and the target of right-wing fury. Conservative bloggers unearthed—scandal!—that she had once briefly worked for The New York Times and supported Sen. Jim Webb, a moderate Democrat from Virginia. One online commenter accused her of being a "Chinese agent." The notoriety didn't really hurt: the group now has more than 200,000 members, and every status update Park posts gets about a million views.
Got that? A handful of people at a handful of coffee parties is somehow extrapolated into a movement of 200,000.
And just for comparison purposes, here's the CNN report that turned a tea party crowd of 20,000 people in Searchlight, Nevada into a mere "dozens or hundreds."
Liberal media bias?
What do you think?
Source: Newsweek