Last week a federal judge ruled ObamaCare unconstitutional. This week Rasmussen reports that a majority of U.S. voters now think the legislative abomination will be overturned.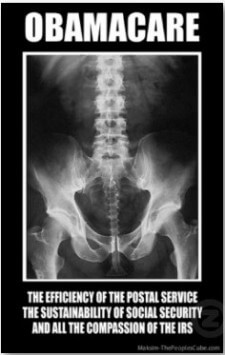 Nancy Pelosi was right. We had to pass the bill in order to find out what was in it. And now that we've found out, we don't like it.
Rasmussen reports on the turn of the American voter:
For the first time since Democrats in Congress passed the health care bill in March, a majority of U.S. voters believe the measure is likely to be repealed.
A new Rasmussen Reports national telephone survey finds that 52% of Likely U.S. Voters think it is at least somewhat likely that the health care plan will be repealed. Thirty-three percent (33%) view repeal as unlikely. Those figures include 16% who believe repeal is Very Likely and 5% who believe it is Not at All Likely.

The number who view repeal as Likely is up from 47% last month and from 38% in early April. Belief that the plan is likely to be repealed has been hovering in the 40% range in surveys since April but began to rise in late October.
It's all good. Well, at least until you remember that this all depends on the gutless Republicans actually doing what they said they were going to do.
Aw, crap, now we're depressed again.
Source: Rasmussen