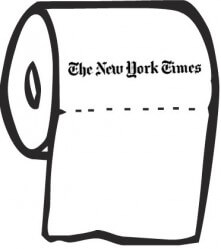 Every day, 365 days a year, the New York Times cranks out more than one million copies of shoddy reportage also known as a newspaper. Entire forest have given their lives so that the New York Times might live lie.
But that doesn't keep them from chastising Americans for flushing toilet paper down the drain.
In an article called "What Mr. Whipple Didn't Say: Softer Paper Is Costly to Forests," the Times reveals that Americans like their bathroom tissue thick, silky and soft as a baby's bottom (so to speak).
In their view, this makes you a bad person because millions of trees get wiped out just so you can wipe up. If you were simply willing to do your duty with, say, a dried-out old corn cob or a recycled Audi, those trees could grow up, get married, go to law school and live long, happy productive lives.
Don't take this sitting down. Begin recycling the New York Times by using it as toilet paper.
You might even say that if you get behind the New York Times, the New York Times will get behind you. If you know what we mean.
Source: New York Times