This ranking of radio talk show hosts and the size of their audiences comes from Talkers magazine, the bible of the talk show industry. Well, call us blasphemous, but we doubt the word of the bible.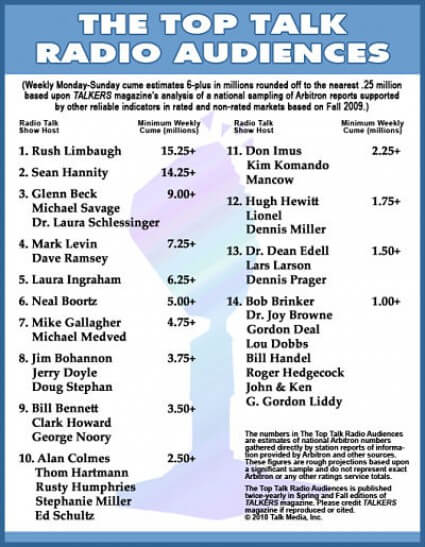 We buy the rankings, but not the audience size of the liberal talk show hosts. It's just not possible for Stephanie Miller, for example, to have ten percent of the listeners that Rush Limbaugh does. Just not possible.
Now, perhaps, the discrepancy can explained by the fact that Miller's show airs in the more highly-rated morning slot, while Limbaugh airs in the generally lower-rated midday time period. But that still can't explain away the fact that Miller doesn't air in most major markets and has low ratings in the markets in which she does air.
So either the lib talkers' numbers are grossly overstated or Limbaugh's numbers are grossly understated.
And that would be the only thing understated about Rush Limbaugh.
Source: Talkers.com