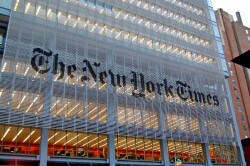 No one was harder on the Wall Street tycoons who took bonuses with their bailouts than the New York Times.
Why then would a foundering newspaper with plunging ad sales and subscriptions pay its lackluster Chief Executive Officer a multimillion-dollar bonus? Because bias and hypocrisy are what the New York Times stands for.
New York Times Co. CEO Janet Robinson was paid about $4.9 million in total compensation in 2009, that includes a bonus of about $2.3 million. Sweet.
Oh, and remember how the NYT used to bitch about stock options of all those corporate fat cats? Robinson's stock options were worth around $1.6 million.
And in other news, while Robinson reaped the million-dollar riches for leading the shaky New York Times, the paper plans to cut over a hundred news room jobs.
Hey, they have to find money to pay Robinson somewhere and it might as well be in the news room. The Times doesn't need to find news when they can make it up all by themselves.
Sources: Breitbart.com, Media Decoder
– Written by Sven Waring, DotPenn.com
---