Economists are a notoriously disagreeable bunch, but even they agree small businesses produce most of the country's new jobs, about 2/3 to be exact. Our engine of job growth is currently stuck in neutral.
Business Insider discusses government policies affecting small business that mean high unemployment may be a long-term problem: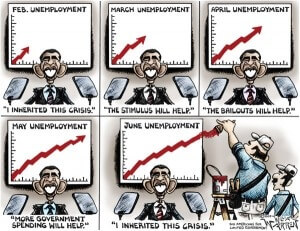 The high costs of cartel healthcare, a.k.a. Sickcare in the U.S.
Obamacare's mandates discourages both formation of new businesses and additional hiring by existing ones.
Politicos and employees don't understand small business.
Businesses are owners' livelihoods, not vehicles for "feel good" social policies of meddling politicians. Enterprises hire because demand justifies the extra help, not because some nitwit in DC offers them a tax credit.
Local government views small business as tax donkeys…. a captive source of extra revenue via higher licensing fees, junk fees, permits, surcharges, etc …local politicos and fiefdoms are forgetting every small business owner has an option: it's called closing down, and opting out of the rat-race of higher taxes and costs.
States like California ostentatiously form "fact finding" panels to figure out why businesses are leaving. The pols should just go home and look in the mirror.
Litigation nation. Employees and others can take a turn at the lawsuit lottery wheel, and if they "win" then you lose.
Lawyers are a big Democrat special-interest group, but where do the parasites eat once the host dies?
We don't expect any of this to change until Barack "Not My Fault" Obama joins the ranks of overpaid government retirees. Hopefully in January 2013.
– Written by Bonfire of the Absurdities
Source: Business Insider