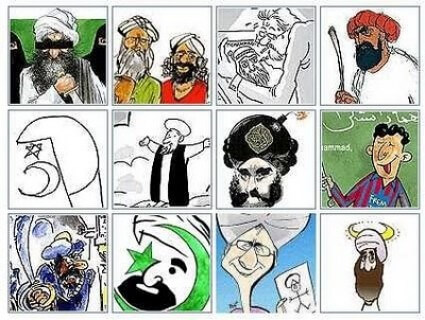 If you can't blow 'em up, sue 'em. That seems to be the philosophy of 95,000 direct descendants of Mohammed.
News.com.au has the details of the sordid suit:
NEARLY 95,000 descendants of Mohammed are going to sue 10 newspapers for publishing "blasphemous" cartoons of the prophet.

Faisal Yamani, a Saudi lawyer acting for the descendants, claims that the cartoons – which first appeared in 2005 and caused violent protests by Muslims around the world – are defamatory.

One of the 12 cartoons depicts Mohammed wearing a bomb-shaped turban.

The Sunday Times said that although the cartoons were published by Danish newspapers, Mr Yamani plans to pursue legal action in England, where libel laws are weighted towards the plaintiff.

English lawyers expect that he will argue that the cartoons were published in Britain via the internet and are a direct slur on his clients, who live in the Middle East, north Africa and even Australia.

Mark Stephens, a British lawyer who saw Mr Yamani's missive to the newspapers, told The Sunday Times: "Direct descendants of the prophet have a particular place within Muslim society … By effectively criticising and making fun of the prophet you are, by implication, holding them up to scandal, contempt and public ridicule.
Just a little unsolicited advice from the legal wizards at IHateTheMedia.com: If the dynamite vest fits, you must acquit.
Source: News.com.au