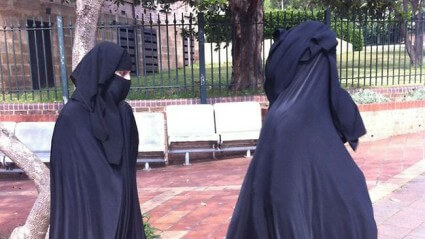 If this were a Perry Mason novel, Erle Stanley Gardner would have called it The Case of the Baffling Burka.
The Sydney Daily Telegraph uncovers the story:
Covered from head to toe in a burqa, with just a slit through which to see, a Muslim woman charged with making a false complaint to police now argues she has been a victim of mistaken identity.
Carnita Matthews was stopped by an Australian policeman, who attempted to give her a random Breathalyzer test. She accused him of racism and said he attempted to forcibly remove her veil. Unfortunately for Carnita, the judge didn't believe a word she said, found her guilty of making a false accusation and sentenced her to six months in jail.
In case you're wondering, that's Carnita on the left. Or maybe that's her on the right. Hmmm. We're really not sure.
H/T: Andrew Bolt