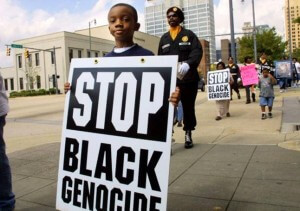 Oh, Obama! Say it ain't so!
A new report from the U.S. Center for Disease Control reports that abortion killed at least 203,991 blacks in the 36 states and two cities (New York City and the District of Columbia) that reported abortions by race in 2005. Contrast this with the Tuskegee Institute's famous report that said 3,437 lynchings of African Americans occurred between 1882 and 1968 and troubling genocidal questions begin bubbling to the surface.
According to numbers from statistics provided by the Guttmacher Institute, a pro-abortion group, 1,784 blacks are aborted each day.
Dr. Alveda King, niece of slain civil rights leader Dr. Martin Luther King Jr. said, "… abortion has done what the Klan only dreamed of."
Abortion kills more black Americans than the other seven leading causes of death (heart disease, cancer, strokes, accidents, diabetes, homicide, and chronic lower respiratory diseases ) combined, according to data collected by the Centers for Disease Control and Prevention for 2005, the latest year for which the abortion numbers are available.
When asked to comment on this report, Dr. Freda Bush, a black, pro-life obstetrician and gynecologist said, "I would like for them to explain why there's such a significant proportion of their (Planned Parenthood) clinics that are located in minority communities.
White Liberals respond, "We like black people. We just don't like so many of them."
The response of Congressional Black Caucus, NAACP, Urban League, and the National Action Committee of Al Sharpton was a collective, "We've got our piece of the pie, why should we share it?"
Source: CNSnews.com