Harry Reid scheduled a Thursday vote on the DISCLOSE Act, which will require donors to reveal their donations to political campaigns.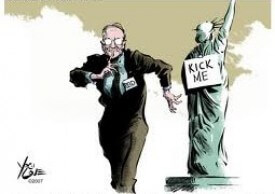 The vote could have been held on Wednesday except for one thing: Senate Democrats were all hobnobbing with the rich, famous and corrupt at a fundraiser for themselves in New York.
Politico.com reports that, "The event has prices raising up to $15,200, but a mere $2,500 contributed or raised buys you access to a 'VIP reception with members of Congress.' The money goes to the House Senate Victory Fund, which splits its receipts between the DSCC and the DCCC."
"'An individual can contribute as much as $60,800 per calendar year to the House Senate Victory Fund,' the invitation helpfully notes. (These donations will, it's worth noting, be disclosed.)"
Hypocrisy, thy name is Harry.
Source: Politico.com