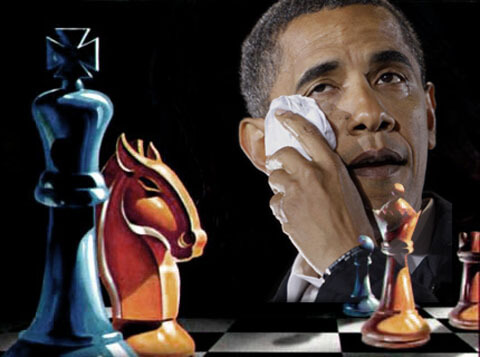 According to the Huffington Post, President Obama is a chess master extraordinaire. No, really. That's what they said:
President Obama knew about the secret Iranian facility nine months ago. Before he began his strategy of engagement, he knew Iran was lying about its program. When he extended his hand in friendship, he knew Iran had built a secret factory to enrich uranium. Before he offered direct talks, he knew Iran was hiding a nuclear weapons breakout capability.

Each move was denounced as "weak" and "naïve" by the right. That talk looks foolish today. These were the moves of chess master, carefully positioning pieces on the board, laying a trap, and springing it at the opportune moment.
Well, actually, the moves still look weak and naive to us.
We'd say the Huffington Post has it slightly wrong. Obama looks more like the president of the high school chess club than a chess master. And Mahmoud Ahmadinejad looks like one of the tough kids who's about to give him a wedgie.
Source: HuffingtonPost.com