If he weren't such a dick, we could almost pity Barack Obama. All he wanted to do is take a low-profile taxpayer-paid vacation at the getaway of the rich and famous on Martha's Vineyard and still he is subjected to the vile raaaaacist attacks which have bedevilled his promising presidency.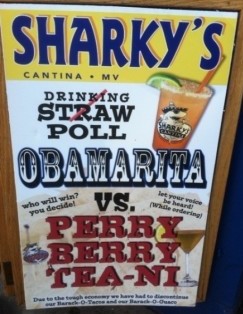 CapeCodOnline.com reports:
There seems to be a bit of a sea change regarding President Obama's popularity, as judged by the offerings of businesses along Circuit Avenue in Oak Bluffs.
Obama said he was going to fix the sea change.
In past years, shops displayed mainly supportive stuff, like t-shirts extolling Obama's virtues. However, this year a smirking George W. Bush t-shirt is getting laughs from window shoppers. It reads: "Miss Me Yet? How's that hopey-changey thing working out for ya?"
A t-shirt extolling Obama's virtues? That list would fit on the price tag. But on Martha's Vineyard, the shoppers are laughing AT the Bush shirts, not with them, right?
Also, Sharky's Cantina, a Mexican joint on Circuit Avenue has discontinued their Barack-O-Taco and Barack-O-Guaco (guacamole) "due to the tough economy," according to a sign outside the restaurant. The Obamarita still survives on the drinks menu, but it has been joined by a Perry Berry Tea-ni, a martini named for the Texas governor and Republican presidential nominee.
Sure, the "tough economy". And the Iraqis removed all of Saddam's pictures due to a nail shortage. The Obamarita survives probably because it's made with kool aid.
One comment stated (before it mysteriously disappeared), "If he's tanking in uber-liberal Cape Cod, he's tanking everywhere." Good.
– Written by Bonfire of the Absurdities
Source: CapeCodOnline.com