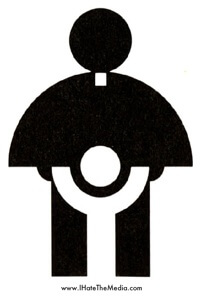 This is an actual logo designed in 1973 for the Catholic Church's Archdiocesan Youth Commission.
In fact, it won an award from the Art Directors Club of Los Angeles and is shown in the 1974 ADLA Awards Annual.
It can also be found in the Design Archives of AIGA, "the professional association for design." We know it looks like a sick joke, but you can see it here for yourself.
We know the 70s were simpler times, gentler times, more innocent times. But for God's sake, man, did no one in the Archdiocesan Youth Commission see anything wrong with this design? No one?