Aaaarrrrrggggghhh! That's the sound Howard Dean made when he lost the Iowa caucus and the sound we make every time we see Michelle Obama referred to as a fashion icon.
Last week's Time magazine squeezed that horrid noise out of us again by publishing yet another article on the tres fashionable Michelle Obama. This one's written by Kate Betts, who has, coincidentally, written a new book called Everyday Icon: Michelle Obama and the Power of Style.
Given her widespread reputation as one of the most stylish women ever to inhabit the White House, you might think Michelle Obama automatically belongs in the Madison-Kennedy lineage. But her background argues differently. No one can claim that Michelle Obama doesn't know what it's like to work or that she entered marriage because she didn't get an education and lacked economic power of her own. It is plain that she has learned as much if not more from the example of Hillary Clinton as from the example of Jackie Kennedy.

What makes Obama exceptional is that she seems so at home in both camps. So at home that the whole debate about style and substance suddenly seems passé, an anachronism of the gender wars, a false dichotomy enforced by narrow-minded men and women at war with themselves. That Michelle Obama does not see style and substance as an either-or choice is a powerful statement that the underlying assumptions about women's roles and images have changed. Embodying the confluence of substance and style, she has helped reconcile the long-standing antagonism between them. She has, in some sense, made them one and the same.
C'mon, Kate, any impartial observer would have to admit that Michelle Obama's fashion sense is more akin to Teddy Kennedy's than Jackie Kennedy's.
We've looked through thousands of photos of Jackie Kennedy and we cannot find one – not one – in which she looks less stylish than Michelle Obama does in any of these photos.
We've chronicled the First Lady's faux pas before, but Time and Kate force us to present this additional evidence.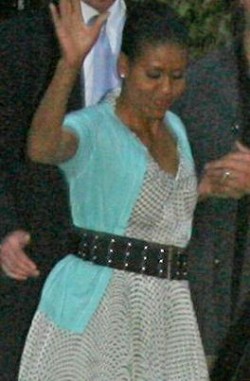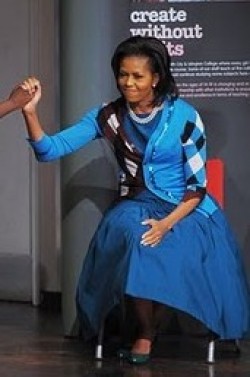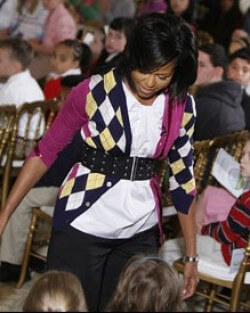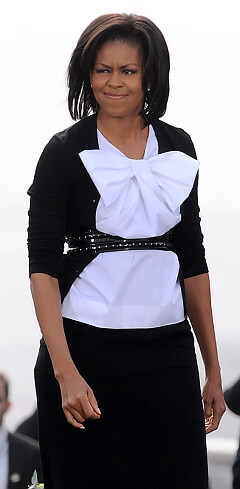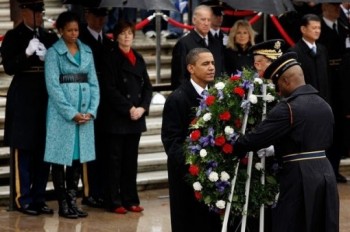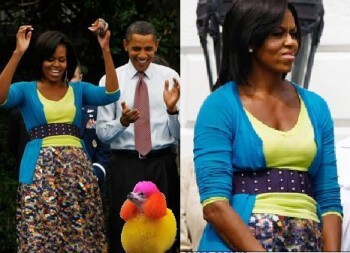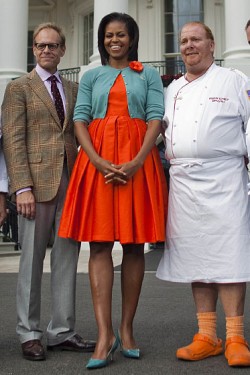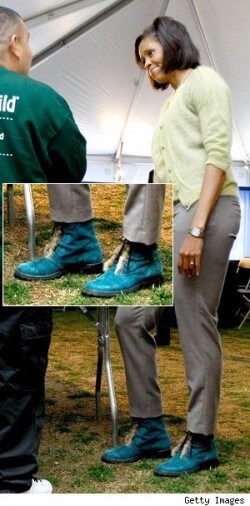 Source: Time