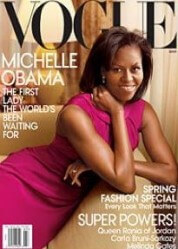 What's this world coming to when you can't trust Vogue magazine to be impartial?
Turns out that cover story featuring Michelle Obama in fancy-schmancy designer fashions was written by editor-at large Andre Leon Talley. And it turns out Talley also hosted an $1000 per plate fundraiser for Barack Obama along with Vogue editor Anna Wintour and designer Calvin Klein.
"With her long, lean, athletic frame, she moves as if she could have danced with Alvin Ailey in another life," the article gushed. "Curled up in the corner of a huge taupe velvet sofa, wearing knee-high boots as she nestles into the cushions, she almost seems like any other mom recently relocated to a city because of her husband's new job."
We're thinking of starting a new website. Does anyone know if "IHateButtKissingFashionMagazines.com" is available.