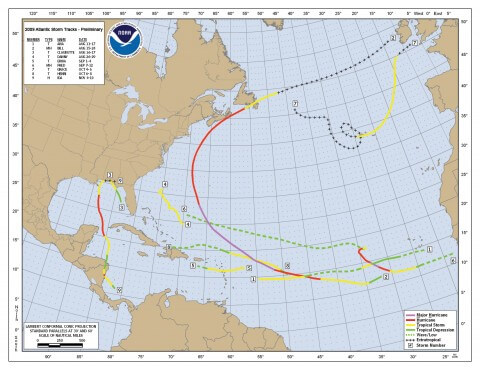 An Inconvenient Truth, Al Gore's Academy Award-winning science fiction movie, attempted to scare the bejeebers out of you by claiming that global warming would inevitably lead to increased frequency and intensity of hurricanes.
Sadly, Gore's credibility peaked in 2005 and so did hurricanes.
As Bloomberg reported on December 1:
Atlantic Hurricane Season Has Fewest Named Storms in 12 Years

The Atlantic hurricane season ended today after producing the fewest named storms in 12 years. It was the first time in three years that no hurricane struck the U.S. mainland.
The story continued:
The calmer season was expected and reflected the development of a mid-year eastern Pacific warming pattern called El Nino, said Gerry Bell, lead seasonal hurricane forecaster at NOAA's Climate Prediction Center, in Camp Springs, Maryland.
Unfortunately, the Insurance Journal reported a different reality: In its December (2008) forecast, the Colorado State University team predicted 14 named storms. That included seven hurricanes and three big ass major hurricanes.
Ahhh, but alas. It was not to be.
In reality, the 2009 season that ended as December began saw storms that barely qualified as storms. It featured storms that formed and dissipated so quickly that it's almost surprising they were even noticed. We even had a couple oddball storms that formed far north of the typical hurricane track. It was the first time in several years in which no hurricanes hit the United States. And we even had a late hurricane that barely qualified as one. To sum it all up, 2009 was one of the quietest hurricane seasons in decades.
And so we simultaneously bid a fond adieu to the 2009 hurricane season and to Albert Gore's tattered credibility.
We know there will be another hurricane season in 2010, but the return of Gore's credibility is far less certain.
Source: Bloomberg, Insurance Journal