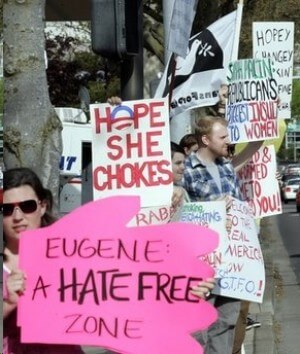 Sarah Palin gave a speech in Eugene, Oregon a couple days ago and was greeted by the city's official welcoming committee.
As you can see, the pink sign in the foreground indicates that Eugene is a hate free zone. The sign directly behind it proves that it's an irony free zone.
Notice that the pink sign is in the shape of a hand. A hand, get it. It's supposed to be like notes written on the palm of a hand. Hahahahahahaha. Oh, god, that sophisticated left wing wit just cracks us up.
The editor of IHateTheMedia.com is a graduate of the University of Oregon (yeah, that journalism degree is really paying off now). He assures us that Eugene was full of left wing lunatics when he lived there and that it's even worse now.
Screw you, Gene. (See, that was a clever way of saying Screw Eugene. Those lefty protestors aren't the only ones who understand how to use that sophisticated wit stuff).
H/T: Hot Air