Note: here's a more current article on the ratings: O'Reilly-Hannity-Beck go 1-2-3 in cable news ratings again, Fox destroys competition again
The biggest news in cable news this week is the remarkable rise of Glenn Beck at Fox.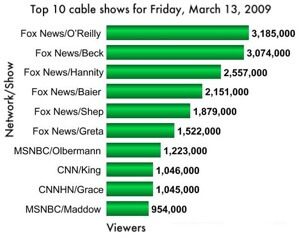 His Friday night special drew huge numbers and leapfrogged his show above long-time #2 Sean Hannity. What was CNN thinking when the let this guy get away?
As for the rest of the cable news pack, some were up a little, some were down a little. And Larry King continues to be CNN's last man standing.
The accompanying chart looks at the top 10 cable TV news shows for March 13, 2009.
Source: MediaBistro, Nielsen Media Research