In what amounts to an amazing display of left wing lunacy even by Media Matters standards, the Soros-backed scandal sheet has attacked Fox News yet again.
What has the evil Fox done now? According to Media Matters, "Fox News' coverage of the Wisconsin protests over Gov. Scott Walker's proposal to eliminate public employees' collective bargaining rights, among other things, has been marked with repeated attacks on the protesters. However, by contrast, Fox has relentlessly promoted and even encouraged viewers to participate in tea party and "Tax Day" protests over the past few years."
As much as we hate to admit it, Media Matters may have a point. The two events are exactly alike if you overlook the fact that the Tea Party was a grassroots movement that was entirely lawful, while the strike in Wisconsin is an illegal strike by teachers, or the fact that "doctors" wrote phony sick notes for the Wisconsin teachers which were not really necessary for the Tea Party members as once again THEY WERE NOT ACTING ILLEGALLY!
The liberal left, who consider themselves to be intellectual giants, seems to have a hard time with the word "illegal" as in "illegal strike" or "illegal immigrant."
Speaking of hypocrisy however, why doesn't Media Matters show some of the signs from Wisconsin portraying the Governor as Hitler and showing him in crosshairs? Wasn't that the same "violent rhetoric" that the left was condemning mere weeks ago?
On second thought, Media Matters doesn't have a point after all.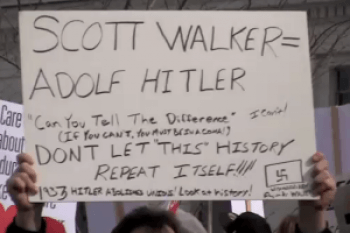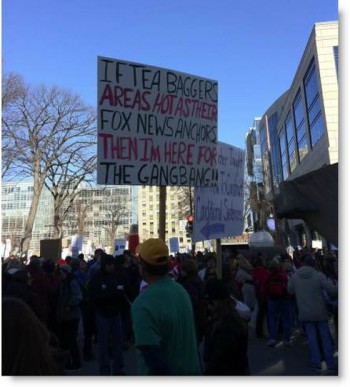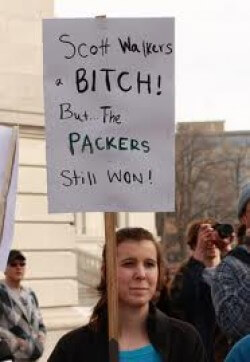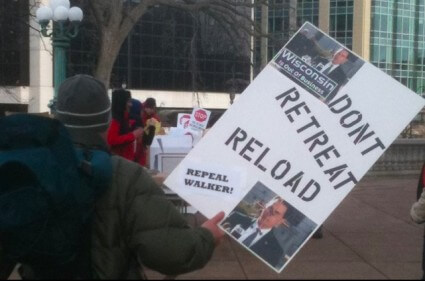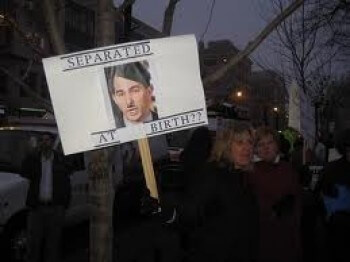 Source: MediaMatters