The clear implication of the liberal media was that most of the people who attended Beck's rally were white, therefore the event must have been racist.
Here are just a few of the many examples:
"Beck says he and his overwhelmingly white followers 'are the inheritors and protectors of the civil- rights movement.'" — Ben Adler, Newsweek
"Conservative commentator Glenn Beck and tea party champion Sarah Palin appealed Saturday to a vast, predominantly white crowd on the National Mall to help restore traditional American values and honor Martin Luther King's message." — Associated Press
"Many in the predominantly white crowd bent over backward to insist that they are not racists and to note that the crowd was courteous, despite heat and density." — James Hohmann, Politico
Yet, the liberal media scrupulously avoided terming Sharpton's rally racist, despite the fact that most of those in attendance were black.
For example, here are photos of Sharpton's rally from the Washington Post. Nary a white face to be found. Hmmmmmm.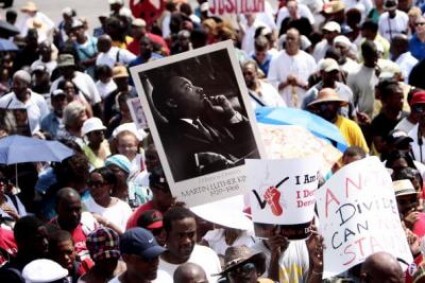 And here's coverage from PBS. Not a lot of white faces shown in that march, yet two of the three people interviewed by PBS in this clip were white. Seems raaacist to us.
And then there's this lunatic making this outrageous comment:
"I have a dream that my four little children will one day live in a nation where they will not be judged by the color of their skin but by the content of their character." — Martin Luther King, Jr.
Yeah, right. That'll never happen. The race mongers and liberal media won't let it.
H/T: DailyCaller.com