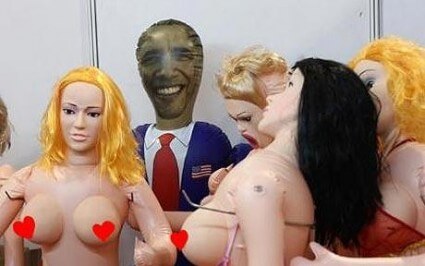 This story makes it too damn easy. Punch lines just leap to mind. It's not even a challenge, but feel free to write your own if you wish.
The Telegraph UK has the sordid story:
Americans may have fallen out of love with Barack Obama, but the president of the United States is still an object of affection for the Chinese, who have remodeled him as a blow-up sex doll.

A doll wearing a dark blue suit and red tie, and with Mr Obama's face carefully screen-printed onto its head, was exhibited at the recent 8th Sex Culture Festival in the southern city of Guangzhou.

The doll was photographed by Chinese state media nestling behind several other standard plastic female toys.

Mr Obama is widely popular in China, and a "Maobama" t-shirt, bearing an image of his face crossed with a portrait of Chairman Mao, has become a best-seller.
Notice the remarkable strength and maturity that we're showing here. Not one cheap, sleazy punch line has left our laptop.
Also see: The Barack Obama Blow-Up Love Doll. Seriously. We're not making this up.
Source: Telegraph UK