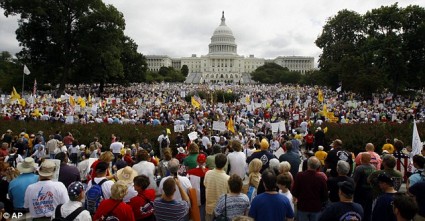 An awful lot of people showed up at the National Mall Tea Party on September 12 to protest government spending in general and ObamaCare in particular.
So how many showed up, you ask? It depends on whom you believe.
MSNBC reported, "thousands have turned out, some have said tens of thousands." The Washington Post estimated "tens of thousands." ABC figured between 60–70,000 protestors. The New York Times initially described it as a "sea" of people before stating, "The demonstrators numbered well into the tens of thousands, though the police declined to estimate the size of the crowd." According to Examiner.com, there were "as many as two million protestors." CBS, CNN and FOX all reported on the Tea Party but declined to provide estimates.
To get an objective perspective, it helps to go overseas. According to the UK's Daily Mail — complete with eye-opening photos — the crowd numbered "as many as one million people."
On the same day as the D.C. Tea Party, the president appeared in Minnesota to continue pushing his idea of health care "reform". How many came to see Dr. O? According to the NY Times, 15,000 "cheering Obama supporters" showed up. On the day before the protest, White House spokesman Robert Gibbs claimed he had no idea the D.C. rally was even planned.
On Sunday, White House senior adviser David Axelrod said of the protests, "I don't think it's indicative of the nation's mood. You know, I don't think we ought to be distracted by that. My message to them is, they're wrong."
Out of touch much?
Source: Daily Mail UK