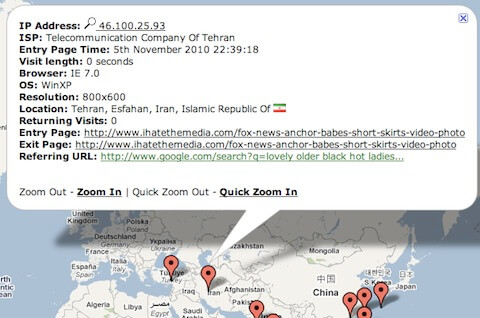 We have a reader in Iran. We don't know exactly who he, but we have our suspicions.
We know this thanks to a website called StatCounter.com that provides a set of analytical tools that allow website owners to take a closer look their viewers. We can see things like total page views, unique page views, most popular pages, etc.
One of our favorite tools is the "Recent Visitor Map." It shows the city and country of each of your website's last 500 visitors, what IHTM page they landed on and their referring URLs.
So Friday at 10:39 p.m., just before calling it a night, we checked the Recent Visitor Map. The image at the top of this story is a cropped screen capture of that map. As you might expect, most of our visitors came from the United States, but others came from Canada, Australia, Brazil, Turkey, India, China, The Phillipines, and oddly enough, Iran.
That's right, someone in Iran, home of the world's strictest Muslim theocracy, is reading IHateTheMedia.com.
We assumed that visitor would be reading one of our stories about Muslims (sorry for the stereotype, but our experience has been that most of our hits from Muslim countries land on stories involving Muslims).
Anyway, we were surprised to see that the Iranian visitor was located in Tehran. We were even more surprised to see that he had landed on our "Fox News Anchor Babes In Short Skirts" story that we did about two years ago. And then we got the biggest surprise of all. This reader found IHateTheMedia.com by doing a Google search for "lovely older black hot ladies."
Now we don't care what this Iranian's personal proclivities may be. To each his own. Traffic is traffic, so we certainly welcome visitors from all around the world.
And in that spirit we say, "Welcome, Mahmoud." Your secret is safe with us.